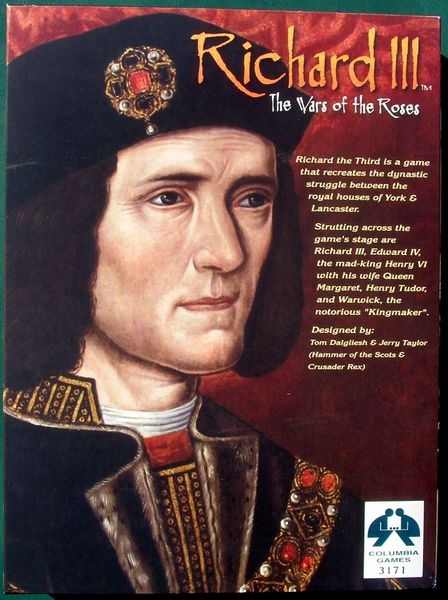 I haven't been writing much here lately because I have mostly been focused on other things. I had a job offer that would have required moving to Florida that was subsequently withdrawn. Unfortunately, I already had most of my apartment packed. That also led to me leaving the temporary gig I had. So, I have spent the last few weeks looking for new work.
In between that I've been doing a lot of gaming. I'm still running my regular LL game. Outside of that, though, I haven't been doing any roleplaying. Instead, I've been playing quite a few board games. Rather than just letting things lie fallow here, I figure I'll give you my thoughts on some of the games I've been playing.
A couple weeks ago, I played
Richard III
from Columbia Games with my friend Nick. The game is a campaign-level strategy game recreating the Wars of the Roses. It uses some interesting mechanics and requires you to balance between raising nobles, maneuvering, and fighting. It uses a set of cards dealt at the beginning of each campaign to determine both turn initiative and the number of actions you can take. So you need to decide exactly how you want to dole out your cards to make sure that you can gain initiative when you need it. Combat is fairly abstract, but does include mechanics for "turning" less loyal nobles if the King or the pretender is present on the field. The game is divided between three campaigns of several turns each, with a recovery and realignment phase between.
I drew randomly to see which side to play, and I got York. I started by landing my troops from France in East Anglia and marching on London. By the end of the first campaign, I had taken London and driven Lancaster into Wales and the North. In the second campaign of the game I reinforced London and raised as many nobles as possible in the north. The northern nobles gathered in York and waited for Lancaster to march from Wales. Eventually, we met on the field south of York and I crushed the Lancasters in one final decisive battle. Even if we had played a third campaign, Nick probably wouldn't have been able to recover, so we declared the Battle of York the end.
I really like this game, and I'm looking forward to playing it again. Next time I plan to play Lancaster and see if I can turn the tables. Nick and I also talked about using the game as a War of the Roses campaign system for use with minis. Basically, we would play this game straight but use
Warmaster Medieval
or another similar system to fight the battles.